There is little question that Jurgen Klinsmann was the most "tactic-y" hire USSF had ever made. Klinsmann had been known as a tactical ideologue for the better part of a decade, espousing ensconced European models like playing for development instead of results and passing around walls instead of lifting your eyes over them.
As obvious as that seems now, those are relatively novel concepts on these shores. As a SoCal resident, Klinsmann knew it as well as anyone.
You heard him talk about coaching like he was conducting a symphony orchestra. He issued 3,567 words to the press in his introductory conference, and most of them were theoretical in nature. It was evident immediately that this was not Bob Bradley pulling a hammer from his pocket and drilling that spare nail into the woodgrain anymore. He spoke about things like soccer reflecting back its nation's culture and emphasizing dialogue with college and youth coaches. He posed rhetorical questions ("What should be the style of play? Is it more proactive and aggressive, a forward-thinking style? Or is it more reacting style of play?"). He pondered, puzzled. A philosopher coach in many ways.
His place on a continuum weighed down by the empty bucket and the 4-4-2 and the boot-and-chase that hardly paused to breathe in USSF history was assured. And it still is. But how has it changed in his two years in charge? And what has Klinsmann learned? Is it possible to quantify?
Klinsmann's first game as the U.S. coach was more than two years ago on a sweaty August evening in Philadelphia. It was a 1-1 draw against Mexico less than two months after a Mexico fixture that sent Bob Bradley to the figurative and then literal desert. It was a throwaway game for most of the reasons friendlies are, except that this one had Klinsmann's name attached to the lineup sheet for the first time.
Fittingly, the USMNT's last game was against the same opponent, a glorious 2-0 result that seemed to echo Klinsmann's tactical revisions as much as any game has. From Mexico to Mexico, we'll take a look at what's changed in Klinsmann's approach and, perhaps more importantly, what has not. Remember, I'm pulling out the last game not simply because it shares an opponent with his first, but because it's symptomatic of his progression from failed Bayern Munich ideologue to successful tactical realist.
A note: I'm going to throw around a lot of formational sets here. Keep in mind that no formation looks exactly like its corresponding numbers. Games ebb and flow, and no team holds the same formation in its entirety for 90 minutes. A nominal 4-3-3 might turn into three different formations in the course of a game before it morphs back into itself. These are only meant to be guide-rules to attempt to better explain the progression.
So. This was Klinsmann's initial lineup against Mexico for his debut in 2011.
There are two particular points that should narrow your eyes, but you've probably seen them already. Michael Bradley is deployed in the central attacking midfield role on the advanced shelf and Jose Torres is splayed wide. The rest more or less makes sense all things considered. So ostensibly Klinsmann's first tactical run-out was a 4-2-3-1 that, like his formations would for much of 2011 and 2012, rely on a box-to-box midfielder (Bradley) clustered just ahead of two destroyers with his left midfielder collapsing the touchline.
I liked Bob Bradley, but I have to fight against letting his current Egyptian renaissance color my historical lens. I ran out of patience, for better or worse. It wasn't necessarily that Bradley was a slavish adherent to the 4-4-2, because by the end of his tenure he wasn't. By 2011 Bradley had begun implementing his own version of the 4-2-3-1, largely made possible by Dempsey's newfound ability to stay tight on Jozy's back tucked inside. Or, rather, Bradley's discovery.
But it was never an honest 4-2-3-1. The earnest discipline from the wings was never quite there and Jozy hadn't yet figured out how to be a target instead of a stabbing runner with an amorphous position. Some of this, of course, goes beyond Bob.
And so the formation would inevitably morph back into a misshapen 4-4-2 or a globular 4-5-1 by the second half. Imagine you've only driven automatic cars, and at the age of 35 you were repeatedly asked to drive the company car to deliver pizzas, which is a manual. The stakes are too high. After failing to get there in time once or twice, if the option is there, you'd switch back to what you knew instead of repeatedly failing again, wouldn't you? Bradley's experimentation away from the 4-4-2 largely went something like that.
When he was hired, there was plenty written about Klinsmann's attachment to the 4-3-3. He'd certainly talked enough about it. But it was actually the 4-2-3-1 that enamored him more. Always a child of Europe, Klinsmann knew as well as anyone that the true adoption of the 4-2-3-1 by the world's powers at the 2010 World Cup had changed everything. Germany and Spain and The Netherlands all pushed it forward, the idea of the double pivot gaining so much steam that even Brazil played from an angled, somewhat nebulous 4-2-3-1.
Klinsmann's first formation for the U.S. bore this out as well as anything ever has. He was so set on using it that he shoehorned Michael Bradley into forward space to test a theory. The result may have been ancillary, and perhaps the formation was, but what happened with the formation was vital. The team didn't revert to a 4-4-2. You could see the strain there as the midfield tried to peel back, but Klinsmann's substitutions – he moved Torres in and played Donovan underneath Juan Agudelo – precluded them from lapsing back into the pattern. So Beckerman pushed forward to join Torres upfield instead of the reverse. It was an unforeseen masterstroke.
The U.S. ended up scoring in the second half in large part because Klinsmann forced the American double-pivot upfield. Beckerman stayed slightly deeper than Torres, but the two worked off each other and a rare great game from Brek Shea provided an actual bookend on the left wing. The 4-2-3-1 was off to a tidy start.
Now, to last month. Dos-a-cero.
Idea men are famously prosaic. It's sometimes hard to follow their logic, and the tug against attempting the un-attempted is rarely very strong. Klinsmann has his tactical ideals, but he's always willing to break them. As I mentioned before, for much of 2012 and into the early part of this year, Klinsmann occasionally experimented with using three midfield destroyers, most notably on the road to open the Hex with a 2-1 thud against Honduras.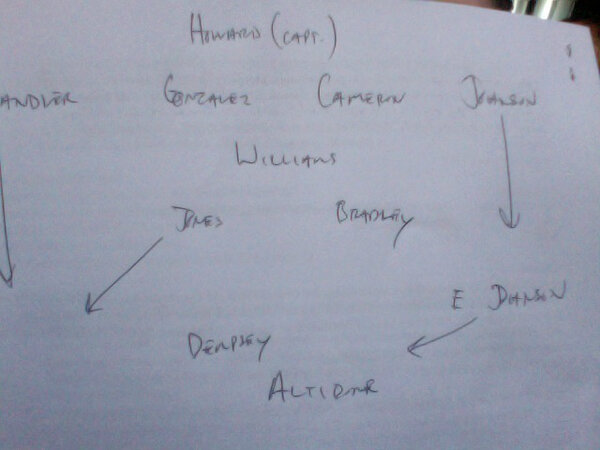 The idea was to allow Jermaine Jones to split off to cover Timmy Chandler's retreats while spraying deep balls, allow Bradley the run of the central portion of the field and let Danny Williams stay deepest. It never really worked the way he intended.
The Gold Cup allowed him to experiment, and even when it appeared the lineup was geared toward a 4-1-3-2 (which seems to be Klinsmann's other nom de guerre), it seemed to settle back into the comfortable environs of the 4-2-3-1. Which is exactly what happened against Mexico in September.
Klinsmann started Jones and Beckerman last month, and given that Beckerman was in Klinsmann's first-ever lineup sheet, it makes sense. The recently flighty Jermaine Jones set next to him, and the top of the initial formation almost looked like a 4-4-2 with a "double six." That is, an empty bucket. That's because at least on the lineup sheet, it looks like Clint Dempsey is deployed next to Eddie Johnson up top, with Landon Donovan wide left.
Instead, sensing the tenor of the game, Dempsey largely played underneath EJ as the central playmaker (until he replaced EJ up top alone in the second half), seamlessly fitting himself in a 4-2-3-1 they created largely out of habit. It created some lovely second-half interplay between Donovan from the left and Dempsey, who skipped in and out of their positions like keyed-up ballerinas in front of Jones and Beckerman, who held ably.
This is significant because unlike Bradley's 4-4-2/4-2-2-2 formation fallback, which was unpredictable at best, Klinsmann has created a possession-based foundational attack. In two years. On balance, this is an astounding turn of events. It's no secret that widespread implementations rarely take hold if they can't be battle-tested successfully in averse situations. That's why Bradley's results were often so scattershot. Conversely, it's why Klinsmann's USMNT squad put together one of the world's best national-team winning streaks of the century.
Klinsmann hasn't really shed his mystical approach to the game. He still speaks in loving platitudes about rotational triangles and top-down soccer revolutions that emphasize attractive, forward-thinking play. He's still the same coach Philipp Lahm accused of having his head so far in the clouds that he barely even discussed tactics.
But what we've seen In Between The Mexicos has been a pervasive paradigm shift away from a style that's defined American soccer for, ostensibly, generations, and toward one that has joined the world model. Has it been perfected? Of course not. The potter's handiwork is only as valuable as the imperfect man who wields the tools.
But tactically, there have been enough encouraging pieces fall into place since 2011 to believe that Klinsmann isn't just setting the table for himself. He's leaving the silverware for whoever comes next.