The Montreal Impact might've notched the biggest non-win in club history on Tuesday night. With the specter of a work stoppage looming like a shroud over the match, the Impact faced off against Pachuca in the second leg of their CONCACAF Champions League match. A spot in the semifinals loomed, a bastion MLS teams haven't widely visited. Further, the Montreal Impact, the Worst Team In MLS Not Named Chivas USA in 2014, was the league's last hope.
Right. This wasn't supposed to turn out well.
But it did. Somehow. And oh boy did it turn out well. Montreal trailed 1-0 headed into stoppage time, and a single goal would push them ahead of Pachuca on aggregate and into the semifinal. With less than a minute left, Calum Mallace hoofed along a 50-yard long ball into the path of Princeton rookie Cameron Porter.
Is Cameron Porter about to put the Impact in the CCL semifinals through a 5-hole? Cameron Porter is about to put the Impact in the CCL semifinals through a 5-hole.
Madness. Pandemonium. Kind of makes you forget there's been a whole work stoppage kerfuffle this week, doesn't it? A plethora of kudos to Montreal for showing up in spades for this match. Lord knows they needed some soccer. Now, the Impact need to win two more rounds before they can give MLS its first CCL champ, but the ironic bit is they might not even suit up for the semifinals. Let's hope it doesn't come to that.
But the best part about this game was Impact manager Frank Klopas. Not his tactics, or anything he did managerially, but this. This glorious, glorious hip thrust three feet away from the referee (h/t to Sam Stejskal for bringing this to light). The most incredible part of this sequence is that the ref had to just stand there and take it, like he was watching Klopas slowly bite the head off of his favorite gerbil.
It will live in infamy as the single greatest moment in CONCACAF Champions League history. Drink this in. Drink all of this in.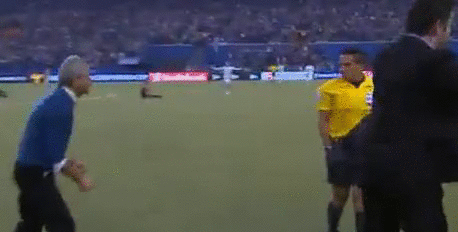 But Klopas wasn't done with the referee. Oh no, sir. Not even close. Watch this mob goombary here. After the game's final whistle, a Pyrrhic victory in hand, Klopas engages with the ref like he's stuck on fast forward, gives him a full on frat fella "What You Want Bro?" double arm gesture and then Petey Pablos his blue sweater above his head to the adoration of the crowd. In pre-imperial Rome, this was how kings were crowned.
There's only one explanation for this. Frank Klopas immediately turned into his own inner spirit animal over a brief, brilliantly blue period of three minutes on Tuesday night in Montreal. Turns out Klopas has been an inner frat bro all along. This explains so much.