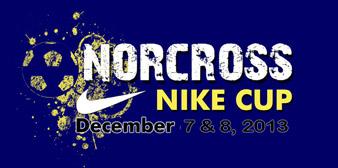 2013 Norcross Nike Cup
Registration is now open and early acceptance has begun for the 2013 Norcross Nike Cup.

Over 500 boys and girls teams from 150 different soccer clubs from 14 states will travel to compete in Atlanta, GA on December 7 & 8, 2013. College showcase divisions were attended by over 100 college coaches in 2012.

Don't let your team miss the chance to play in the most competitive, challenging and organized tournament for the post season. Registration will close October 14, 2013 at 12 Noon (EST).

THIS IS GOING TO BE A GREAT TOURNAMENT, REGISTER NOW!
More Information
Age Groups: GU8, GU9, GU10, GU11, GU12, GU13, GU14, GU15, GU16, GU17, GU18, BU8, BU9, BU10, BU11, BU12, BU13, BU14, BU15, BU16, BU17, BU18
Schedule Games/Days: 2/2