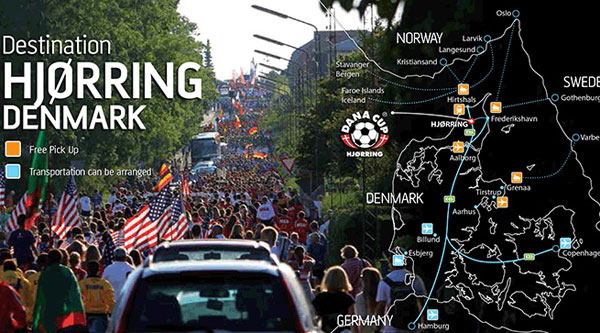 Welcome to the Dana Cup Hjørring
International Youth Soccer at it´s best - come and meet the rest of the World in Denmark.
Over the years more than half a million participants from more than 115 nations have made Dana Cup well known all around the world. Denmark's largest sporting event and one of the largest youth soccer tournaments is a well oiled organization that looks forward to welcoming you and your team here to Hjørring.
Dana Cup has a unique international atmosphere and at the same time takes place in a secure area, one of the most beautiful in Denmark.
Participating nations
We welcome some of the biggest soccer nations from all around the World.
Argentina, Brazil, Chile, England, France, Germany, Holland, Honduras, Italy, Mexico, Peru, Portugal, Scotland, Spain, Venezuela and many more.
Classes and age limits 2017.
Boys: B19, B17, B16, B15, B14, B13, B12(7) and B11(7).
Girls: G19, G17, G16, G15, G14, G13 and G12(7).


Dana Cup Facts:
* More than 1.100 teams from 45 countries
* Denmark's largest sporting event
* The World's third largest youth soccer tournament
* The World's most international youth tournament with 90% foreign teams
* Excellent grass fields in a safe environment
* 20,000 participants playing in international groups
* Free pick up and drop off at the train, ferry and airport in Northern Jutland
* Free buses between the schools, the Dana Cup center and the playing fields
* Free Dana Cup event area, free Wi-Fi in the schools and the center area and much more
* Kilometers of beautiful sandy beaches close by
* A fantastic organization with top class personal customer service
* Memories for the rest of your life
To receive our tournament prices or alternative accommodations brochure, just send a quick e-mail to soccer@danacup.dk
Our entry deadline is the 1st of May 2017, you can enter online at anytime on our website at www.danacup.com
We look forward to welcoming you and your club to Hjørring in the summer of 2017, you will be more than welcome.